As the world has been emerging into new technologies and trends interior designing also evolving itself by introducing unique and amazing ways to transform any space into such a modern and luxurious way that can blow your mind.
There are many things that come under the interior design but flooring trends comes at the top position because when your floor is not giving a unique appearance you can't make your space look beautiful.
By keeping this thing in mind the manufacturers are trying to introduce the stunning types and ways of flooring that can transform your space into that can you ever dreamed of. We brought this article for you to give the information about the 25+flooring trend ideas in 2023. 
In today's article, You will be able to learn everything about all these types of flooring ideas.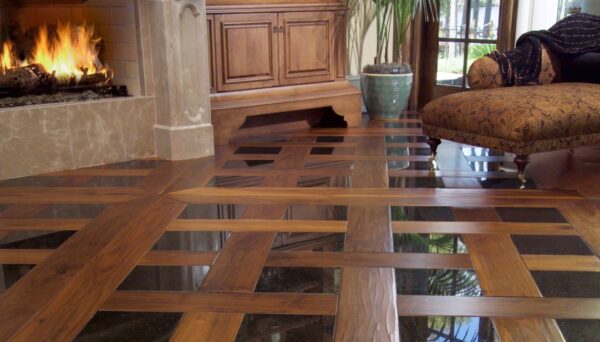 Let's Take A Look At 25+ Top Flooring Trends Ideas in 2023
There are different types of flooring and today, we will try to cover the 25+flooring ideas trending in 2023. Without wasting time let's go through these types one by one:
This type of flooring helps you to give an elegant and decent look to your interior. Tile flooring can be used in multiple environments and didn't get stains and damage. It can withstand wet areas and humid places too.
You can install them in the kitchen floor service, bathrooms, living rooms, in short, any place you want. There are different benefits of using this type of flooring accessories in any commercial or residential area.
It is easy to maintain and clean tile flooring because if it gets stains and dirt you can easily wipe it off by mopping or vacuuming. It is highly durable as it can last for more than 20 years after its installation. Tile flooring is also not so much expensive and can be afforded easily.
Due to all these factors, many people consider getting this flooring type because it can survive any harsh weather condition without getting any damage and has a longer lifespan.
Hardwood flooring comes in a wide range of varieties made up of using wooden materials like bamboo, fir, beech, maple, oak, birch, and pine. To give it different designs the wood is cut into different shapes and assembled together for giving the best shape to it as per the requirements.
After installing the hardwood flooring you can get an amazing interior look that no other flooring trends gives you. It is also highly durable and can last for 10 years without getting off its appearance and color. You can easily maintain and clean it.
Hardwood flooring is versatile enough that it can be matched and fit with any type of interior your space have. It is also anti-allergic flooring that is best for protecting yourself from hazardous health issues. This flooring trend also adds value to your home.
Vinyl flooring is a type of flooring that is manufactured with multiple layers of synthetic flooring. It can be made from the materials like plastic, tiles, sheets, fiberglass, and typically comes in the form of planks. The base layers are made up of using ceramic and wood while the top layer is for protecting the floor from getting any damage.
Vinyl flooring is water-resistant and requires very low maintenance and is also highly durable which means it can last for many years. Comfortable for your feet to walk on this type of flooring that can be affordable and easy to install.
Engineered Hardwood Flooring
The engineered wood look like real wood but is made up of using different layers of plywood material.it also gives the appearance of solid wood. You can afford and install this type of flooring trends easily.
It can be installed in humid and moistured areas without having the fear of getting any damage. These floors are also eco-friendly and help make your environment clean and clear to protect you from getting any health issues.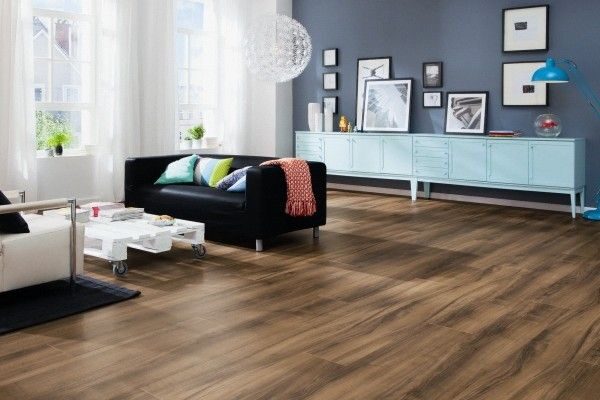 Laminate flooring is not a natural material and manufactured by mankind and consists of several layers with the base of fiberboard and the top layer is a photogenic layer. After this, a transparent protective layer is applied to it to keep it safe from getting any damage.
Laminate flooring is a cost-effective option and best for people who want high-quality performance by spending less expense on it. This flooring is hard enough that can be durable for applying in the home or offices. If you want to install a hard floor then laminate flooring would be the best option for you.
Carpeted flooring comes among the best and most preferable flooring types. Many homeowners apply carpets on their floors for giving an amazing look to their floor. Apart from this it is also less expensive and can be easily affordable by anyone. It also reduces the noise even if you walk on it will not produce any noise.
Apart from this, they come in a wide range of sizes, solar, design pattern, and qualities. They can be installed on any surface and give amazing results. The only drawback is that it absorbs dust particles that can be toxic to your health.
Waterproof flooring helps you to get the best flooring that can't absorbs water and any other wet element. You can use waterproof flooring in any area of your home. These types of floors are more expensive than the other water-resistant floors, so you have to get this flooring for moisturized areas like you can install it in your bathroom, basement, or kitchen.
The distressed floor gives a unique and aesthetic touch and makes your floor look old. It is a type of historic and traditional flooring. They can create a great combination with the bricks walls, farmhouse kitchens, fireplaces, stacked stones, etc.
If you want to increase the resale value of your home or any area then this flooring would be the best choice for you.
Wood flooring is the best type that can give a traditional look to your home and also have a lifespan from 30 to 100 years. If you take proper care of it would last for a whole life. It comes in great textures that can transform the entire look of your interior design.
It is expensive but the better option as compared to other flooring types. You have to maintain and keep it clean. The wood flooring is not made for wet and humid areas. Even if you want to clean the floor you have to wipe a mop around its surface without using the water. It also gets scratches too fast so try to take care of it.
There are different types of flooring that are environment friendly that can withstand any environment and also keep your air fresh and clean. This type of flooring protects you from getting any health issues due to the toxic particles found in the air.
Bamboo, cork, hardwood, wooden, engineered wooden floors are some of the examples of eco-friendly flooring types.
Stone floors are made up of using the natural stones and come in the form of tiles. It is made from different mountain-related minerals like marble, granite, limestones, travertine, sandstone instead of using artificial stones. These floors are highly durable and can last for many years without getting any damage.
You can install stone flooring both in outdoor and indoor areas because they are eco-friendly and can withstand humid and moist spaces. They also help you to keep the surface of your floor to be cooled and also energy efficient. Because they are best at maintaining the temperature that helps you to reduce the electricity bills.
Decorative flooring is now becoming a trend as people search to get them as per their desired design. Geometric patterns mostly come now in tiles, vinyl, and carpets for helping you to give a decorative touch to your interior.
It comes in different decorative styles that you can choose for installing in the areas like kitchen and bathrooms to give a unique and stunning appearance.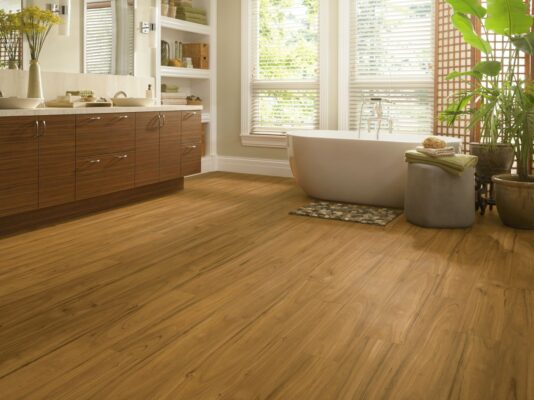 Blonde Wood Looking Flooring
Blonde wood flooring is exactly made up of using wood strands and usually comes in the form of planks. It helps you to give a traditional and aesthetic look to your floor by looking like a wooden floor. It also helps you to make any room feel larger and more open, especially if you use large planks.
They are also durable and can last for many years and also requires high maintenance to keep them safe from getting any damage and scratches.
Marble flooring is also one of the floors that are widely used and preferred by many homeowners. This type of flooring never hoes outdated and always trends on the market of flooring. It is a luxurious and modern option for interior design. But it requires more maintenance and is more susceptible to damage as compared to other floorings.
Gray flooring is one of the tremendous options that give a unique and stunning appearance to your interior. It also helps to hide the dust on its surface and becoming more popular with the passage of time.
It can also blend with the furniture to take your interior to the next level of modernity. It always gives a fresh and clean look to the surface of the floor.
White floors are always the best choice for creating a decent, elegant, and luxurious interior of any space. The grace that comes from this flooring is unbeatable by any other type of flooring. This type of flooring is mostly installed in hospitals and hotels for giving a decent and clean look to the interior.
The cool and contemporary colors of flooring always proved to be best for giving your floor an amazing look. They are now come in blue and green tiles and carpets for giving a cool and lighter tone to the floor. They are versatile and can blend with the color of your home's interior.
Traditional White Flooring
From the hectic routine of life, we want to get fresh whenever we step into the home, and installing the traditional flooring is the only one that can help you to do this.
Because the white color always gives a coll, fresh, decent and elegant appearance that help you to refresh your mind when you look at this clean and neat floor. It is the best type that offers both comfort and style to the interior of your home.
The Black and white combination is always considered to be the best and when it is applied as a flooring type it may break the record of all color combinations. You can get this texture by using different types of flooring like tiles, stones, vinyl, etc you just need to get them ith black and white colors.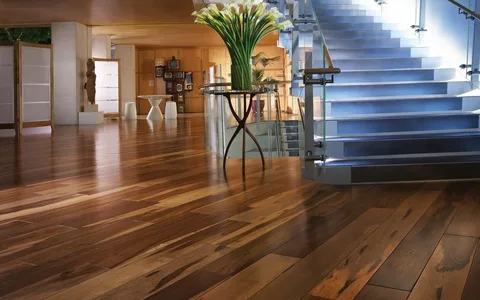 High Color Variation Flooring
You can find a huge variety of colors while choosing the flooring type for the interior of your home. Analyze your surface and the entire look of the room and then decide which color will be well suited to the space.
Different types of flooring can help you in this regard like laminate, vinyl, tiles, and stones because they come in a huge variety of colors that you can choose as per your requirements.
The wide plank flooring is made up of different layers using synthetic fiber material and looks like the vinyl planks. You can use these planks on large surface areas. These planks can be cut and installed in various designs for giving your home a new and different touch that can be eye-catching for anyone who takes a glimpse of it.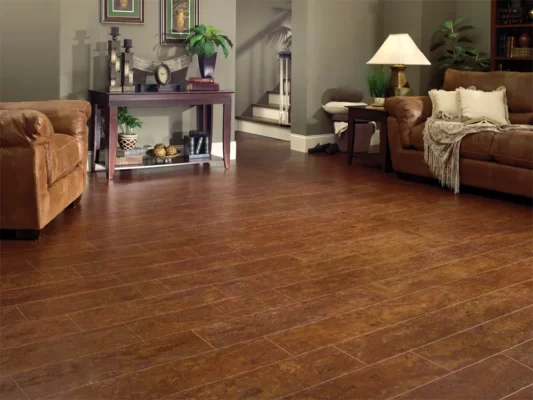 Cork flooring has been used for many years and a plant-based floor covering that become the most preferable option for many homeowners. You can get solid cork flooring for getting more benefits. It is easy to install and easy to maintain. You can use a vacuum cleaner for getting rid of dust and use a damped cloth for removing heavy stains.
The hand-scraped flooring is manufactured by using hardwood material. It will help you to enhance the beauty of interior design and also adds value to your home. You can also install it on humid and wet surfaces like the kitchen and bathrooms as they didn't get any damage. It can be easily affordable and also easy to install.
Creative Tile Transitions Flooring
Different textures and designs are created by using the tiles for getting an amazing and modern look for your floor. The tiles are placed in different styles for creating a specific design. It is mostly done for the people who want to add uniqueness and modernity to their interior. It has all the features that tile flooring can give you.
Bamboo is basically a plant but not a tress that occurred from the grass. This type of flooring has so many similarities to wood flooring. Even it is refinished in the same procedure as the wood flooring does. It is a very hard flooring type and is highly water and moisture-resistant.
If you want to give a natural touch to your home then bamboo flooring would be the best choice for you. It is a trendy flooring type thwill be aat adds an element of elegance to your floor and gives a decent look.
Rubber flooring is also one of the flooring types that has gained too much popularity among people nowadays. It is an efficient flooring material that gives an attractive appearance to your floor. It is also slip-resistant and highly durable that can last for many years and is also eco-friendly.
Conclusion
We have discussed 25+flooring ideas trending in 2023 from all perspectives. I hope you must get all the information related to the topmost flooring types and you can get that adds an element of modernity and elegance to the interior of your home.
This is all for today and must stay connected with us for getting more informational articles like this. You can also get consultancy from our experts about any problem by posting a comment.