Today, we will discuss the pros and cons of installing rubber flooring tiles. In this article, we will try to cover all the aspects of rubber flooring tiles. If you are finding modern and unique flooring for your spaces like play area, poolside, gym then the rubber flooring would be the perfect choice for you. The rubber flooring is basically used at those places that have to face heavyweight falls on it.
It is manufactured with such a great material that can withstand any environment and condition. They are traditionally used for the flooring of sports clubs, gyms, and other moisturized surfaces like swimming pools. But today, it has become a trend and can be used in parks, walkaways, schools, homes, offices, bathrooms and kitchen flooring etc.
Let's Look At The Pros and Cons of Installing Rubber Flooring Tiles
Every flooring type has advantages and disadvantages due to the material from which they were manufactured. Rubber flooring also has benefits as well as drawbacks.
Let's take a look at the pros and cons of installing rubber flooring tiles 
Pros Of Rubber Flooring Tiles 
The rubber floor tiles are very durable and guarantee stability and also offer a strong grip. It can bear heavy loads and feels soft and comfortable when you walk on it. It can last for many years without getting damaged.
As rubber is a soft material than other hard floors and it can absorb the sound even if a heavy thing falls it doesn't create any noise. This flooring is best for installing in large open areas where even the empty echo sound can disturb someone.
When you walk on a rubber floor you will feel an amazing and unique comfortability under your foot. It feels good to walk on the rubber floor.
The extraordinary feature of the rubber flooring tiles is that it has built-in waxes that help the dirt and grime release from the floor surface and make it easy to clean.
It is slip-resistant which would be a safe option for people especially when many people walk on it at the same time.
Rubber is a sustainable material that comes out from rubber trees. These tiles are manufactured by using natural materials so it has a good impact on the environment as compared to the other trendy flooring types.
As we all know rubber is a waterproof material so these tiles are also waterproof and best to be installed on that area where the water flows in heavy amounts. For example, you can install them around the pool area, bathrooms and kitchen.
It will not get damaged from the splashing water and its strong grip also help you to not get slippers of fall down even if you walk on it with wet feet.
The rubber floor tiles didn't absorb than dirt, grime, and dust that's why didn't cause allergies for the people. And also best for the people who suffer from some sort of allergies and asthma patients.
These tiles come in different textures and colors and you can choose the perfect one between them. You can see the huge shades of the rubber flooring that you can get as per your requirements. You can also create great combinations by getting solid colors and mixing them to get amazing flooring patterns.
Cons Of Rubber Flooring Tiles 
If you are going to install the rubber flooring on a larger surface then it would be a tedious task and take too much time to get installed properly.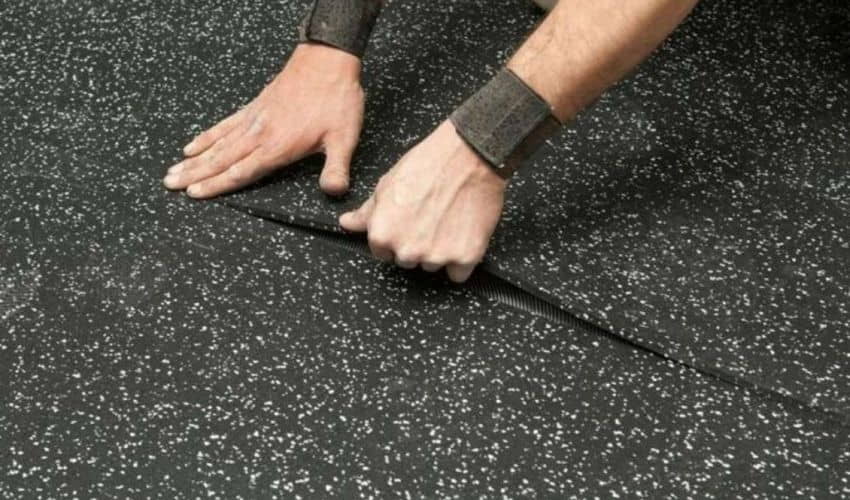 It is quite expensive as compared to other flooring types. Because it can last for many years and provides a great feature that's why it's the cost is high.
Get Stains From Heavy Detergents
If you wash it off by using a heavy detergent that has too many chemicals inside it so it will get stains from this. Try to avoid using this type of things to protect the surface of the floor.
As far as the appearance of the rubber flooring is concerned many people refuse to get it because it didn't give a unique amazing look to the floor and also didn't enhance the beauty if the interior or exterior.
When you installed a new rubber floor then it can cause a smell for the next 6 to 12 weeks after the installation. It is normal for rubber flooring but you can take precautions if the smell bothers you.
Some arrears of your space wouldn't be compatible with the rubber flooring and it can be installed on specific areas in your home and offices.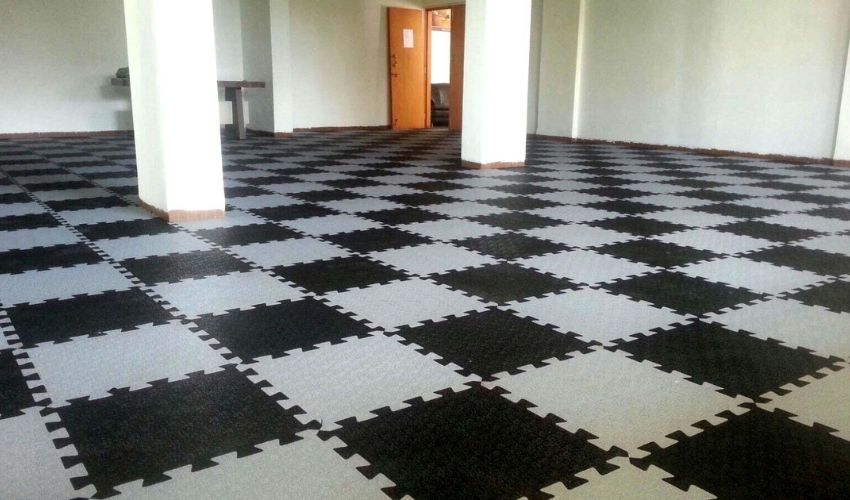 In some cases, the edge of rubber flooring is rough enough that look so ugly and you have to cut the edges of the tiles for giving a smooth edge.
Can Take Water To Subfloor
The rubber flooring installed on the subfloors like concreted and when the waterfalls on the rubber floor can seep through it and can damage the actual subfloor structure.
None heat & Fire Resistant
As we may know that the rubber is not resistant to heat and fire so it is advised you not install them in high-temperature areas.
Conclusion
This is all about the Rubber Floor Tiles. We have discussed everything about it including the pros and cons of installing rubber flooring tiles. We brief each and every aspect of rubber flooring and hope that you get all the information about it.
If you face any problem regarding this then you can contact us by posting a comment. We will help you to solve your problem.