Pet owners always want to find out which flooring option they should adopt that is compatible with the pets and doesn't get scratched or damaged from them. There are different types of trending flooring that are available on the market, but opting for pets may be confusing for many people.
To help you we have put together a helpful guide on the best flooring options for pet lovers. In today's article, we will help you with selecting the right flooring for keeping the pets on it.
Top 10 Best Flooring Options For Pet Lovers
There are different flooring options available, but we will discuss the top best flooring options for pet lovers in this help guide. Let's look at all of them one by one.
1. Vinyl Flooring
Vinyl flooring is a popular flooring for pets lovers. Luxury vinyl tile and vinyl sheets are highly durable and last for many years. This flooring is also resistant to moisture. It is prone to scratches and dents, to some extent.
Vinyl flooring is also easy to maintain. You can easily clean the floor, and it is also easy to install. You can get this type of flooring at an affordable price. In short, it is best to install it in spaces where pets can easily roam about.
2. Tile Flooring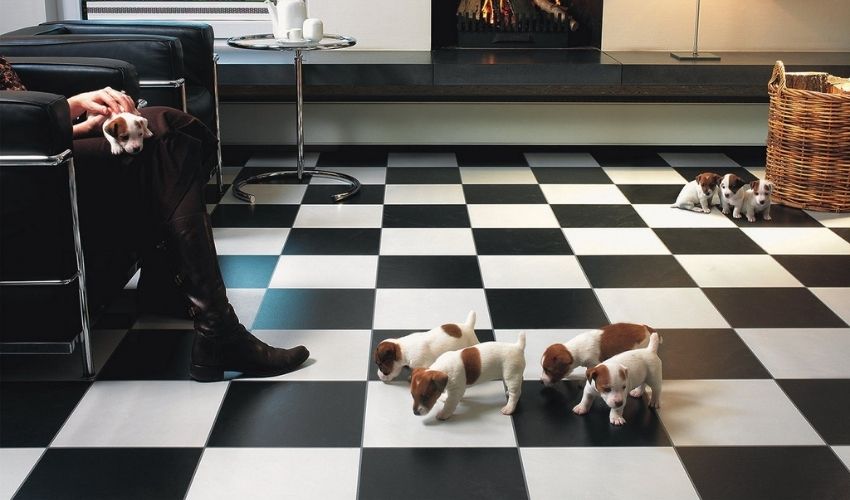 Tile flooring is one of the hard types of flooring that can survive in any situation and is also considered best flooring options for pet lovers. These tiles are best for large dogs and small pets. They have a longer lifespan and are highly durable.
You can easily clean the tiles with no hassle. The stains also didn't stick to the surface of this type of flooring. You can easily wipe off the stains.
3. Ceramic Flooring
If you do not want your dog to keep the dirt in the house, prefer something hard that is less prone to damage. If you want all these things, then ceramic flooring is the best option for you. You can buy tiles that are large enough to keep your pet from running into any dirt. You can apply this flooring both indoors and outdoors.
4. Carpet Flooring
Carpet flooring is the topmost option that is chosen by most pet owners. If you want fluffy and soft flooring for your pets, then carpeting would be the best flooring options for pet lovers. Many carpets offer antimicrobial features that help you keep your pet from getting any allergic reactions to them.
There is a lot of variety available in the market with the best textures and patterns that you can get as per your choice. It gives not only a soft feeling when your pet walks on it, it's also stain-resistant and easy to clean.
5. Laminate Flooring
If you want to keep more pets in your home and keep them in a large area, then laminate flooring is the best solution for you. You can keep the laminate clean by properly vacuuming it. You can also easily clean up the mess created by your pet with no hassle.
The laminate floor is also durable and can last for many years. It is also easy to install, and you can install it on your own instead of hiring a professional.
6. Engineered Hardwood Flooring
If you want to get engineered hardwood flooring for your pets, then you should choose the ones manufactured using the wood of cheery or oak. Because they have such a hard surface that is highly scratch resistant and can bear your pets' harsh nails as well.
If your floor gets any scratches, you can refinish the floor to easily overcome these scratches. You have to perform proper cleaning on the floor to make it more durable and protect your floor from getting more damage.
7. Area Rugs Flooring
If you want to provide a softer surface for your pet to walk on, then get Area Rugs Flooring. It is the best option as compared to changing the carpet again and again in case it gets stains. You can easily clean the rugs if they get dirty because they are in smaller sizes and can be replaced with the other ones. You can easily wash and hang them to dry.
8. Cork Flooring
Cork flooring is an amazing option if you want your pets to keep playing. It also gives the floor an attractive appearance, like hardwood. It is also microbial and helps to prevent the growth of bacteria when your pet messes around on the floor.
You must keep the floor clean to make it more durable. The most beneficial thing about cork is that it is a sound-absorbing flooring type. So, if your pet walks or runs on the floor, it would not make any noise to irritate you.
Cork is also scratch-resistant flooring, which is best if your pets have long and harsh nails. You can also afford this flooring easily. If your floor gets any damage or scratches, you can easily overcome it by refinishing the floor. In short, it is the best flooring option if you are a pet lover.
9. Bamboo Flooring
Like cork, bamboo flooring is another amazing option if you want a natural and wooden texture while the pets are roaming on it. It is also highly durable and lasts for many years. Choose the best bamboo flooring because not all types of bamboo are suitable for pets.
You can also purchase it because it is affordable for most people. You can easily maintain and clean the mess that the pets make on the floor. The water spills and harsh nails never affect the bamboo flooring.
10. Solid Wood Flooring
Wooden flooring is always the best option for all the conditions that a floor has to face. It is best for your home environment as well as adding an aesthetic and traditional look to the interior of your home.
You can clean solid wood easily and also offer higher durability. Solid wood flooring can last for 30 to 50 years with no damage. It is the best option for pet livers because it doesn't get scratches from the pet's nails and it maintains its look and functionality as well.
Conclusion
These are the best flooring options for pet lovers. I hope you got all the information about all the above flooring. Now it's up to you which one you can afford and which would meet your requirements. Try to make the right decision while choosing the flooring type and stay connected with us to get more information and learning guides like this.