In today's article, we will give you 7 questions to ask your hardwood flooring installer and these questions will help you find out each and everything about the floor installer.
Whenever you are going to choose the best flooring type for your home, the first type that comes to your mind is getting wooden flooring. Because wooden flooring has such amazing and outclassing benefits that can't be offered by any other type.
Hardwood flooring also comes in the types of wooden flooring and may prove to be the best option for you to be installed in your space. It offers great durability that can last for many decades with no stress on your floor.
Apart from this, hardwood flooring also increases the resale value of your home. So, if you are going to get and install new hardwood flooring, then you must check whether the installer can do this work.
The 7 Questions You Must Ask Your Hardwood Flooring Installer
It will become a trust issue if you have never worked before with the installer who is going to apply the hardwood flooring in your home or office. There are 7 questions that you should ask before handing over the contract to the flooring installer.
1. Have You Ever Worked Before Related To Installing Hardwood Flooring?
First, ask the installer to show you their previous work portfolio. This will help you a lot to analyze the quality of the work offered by the flooring installer. You will see their experience and work in commercial and residential areas that will help you make the right decision about choosing them to install your hardwood flooring.
Go through the entire portfolio so that you will get to know everything about their work: the styles of trendy flooring they can make, the appearance they give to the interior and exterior, etc.
2. Which Type Of Hardwood Flooring Would Be Best For My Floor?
You can also get help from them by asking what type of flooring would be most suitable for the specific areas of your space. Different types of hardwood flooring are available, and some types are specially manufactured and need to be installed in specific areas of the home. Check our also laminate flooring vs engineered wood flooring.
So, by asking this question, you will get advice from an expert. Many pros and conse hardwood floors are prone to dents, scratches, moisture, humidity, etc. They would shrink and expand if you installed them in an area that is not suitable for this flooring. This will affect the appearance of the floor and turn the brand new floor into an outdated and distracted one.
3. How Much Time It Will Take To Be Installed?
Then you must ask about how much time it will take to install the hardwood flooring. It will help you learn about their installation process and get an idea of how much time it would take.
Professional installers will tell you everything that is necessary for you to know. They always try to give their best services in a brief period, so you will get the new flooring as soon as possible.
4. Should The Subfloor Of My Place Be Suitable For Hardwood Flooring?
Your floor must match the hardwood flooring. For example, if you are going to install it on a highly humid surface or a moisturized one like in the bathroom, then it would not only waste your time but also prove to be the biggest disaster for you.
As a result, always consult an expert to determine whether your subfloor is suitable for hardwood flooring. This will help you save yourself from making a big mistake.
5. Can You Handle The Unfortunately Occurred Problems During Installation?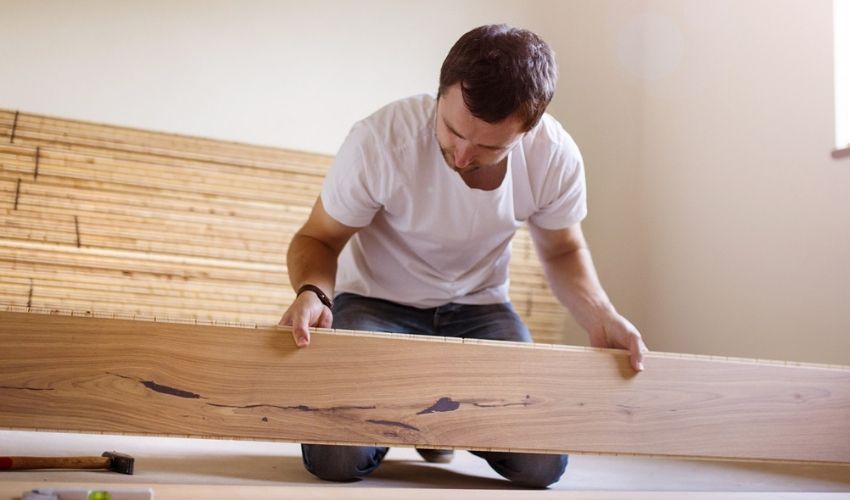 Sometimes during the installation, you face unfortunate problems that you didn't even think of. So, ask your installer if they could handle such an unexpected situation or not.
For example, your subfloor gets damaged during the process of installation, so your installer must have the solution to repair suddenly the subfloor and continue to apply the hardwood flooring on it.
6. How Much Will It Cost to Install My Hardwood Floor?
Always ask about the installation cost from them because it will let you know whether it is budget-friendly to you. When they tell you about the cost, then you can make a straightforward decision about whether to take their services.
7. Can I See The Positive Reviews Of Your Customers?
If your installer provides the service regularly, you can request that they show you their previous word and online positive feedback from their customers. This will give you an idea of the work quality and the percentage of customer satisfaction that they provide.
Conclusion
So, the 7 questions to ask your hardwood flooring installer listed above will help you avoid untrustworthy and unprofessional service providers. If you hadn't asked these questions before in your life, then you would have been mistaken.
Because all the questions we have mentioned above are core elements for getting any installation services related to hardwood flooring. If you want more consultation, then post a comment and we will guide you to solve your problems.